Rings For Men Custom Made In Thailand
Bringing together a highly talented team of gem experts and cutters, jewelry artisans and super inspired designers in Thailand - Kaisilver handcrafts fine rings for men and other jewelry in gold or sterling silver. Rated as the leading online custom jewelry provider, we craft men's rings that look awesome and are durable for years and decades. Thailand is known for its fine jewelry, it also happens to be one of the global centers for gem cutting and polishing. When you order a men's ring from Kaisilver Thailand, you can choose one of our designs or send us your image or sketch. The same team in Thailand works on the gold and silver rings thus ensuring that, equal quality standards are maintained for both options. There is no limitation on gem selection which obviously means that, you need not restrict your selection to what is shown on our websites.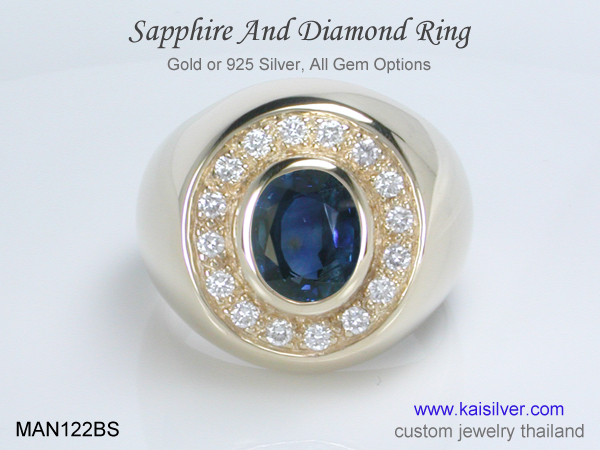 An amazing design, a certified blue sapphire and a halo of glittering diamonds - a scintillating combination blessed with, the sheer magic of Thailand's finest artisans. This men's Thai ring can be ordered in gold or sterling silver and the gemstone of your choice. Custom ring available in all ring sizes ... more.
A collection of finely crafted men's sapphire rings, order them in gold or 925 silver with the gemstone of your choice. When ordering a sapphire ring, you have a choice of yellow, pink, green or blue sapphire. Kaisilver will be glad to craft a sapphire men's ring with you with your own design concept or image ... more.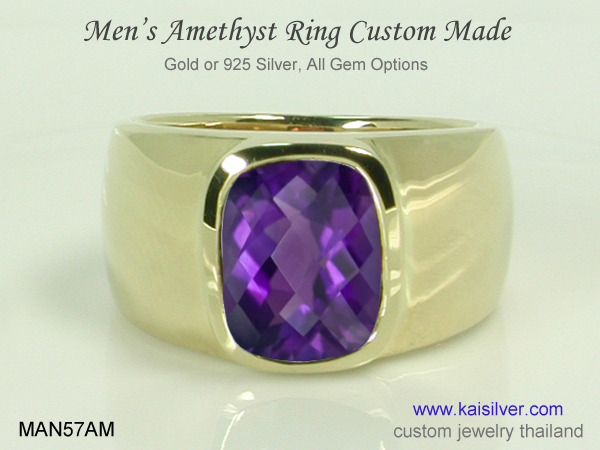 A classic gemstone cut and a wide band are the highlights of this men's band, crafted by our team of Thai artisans. Supported by a hefty metal (gold or silver) weight, this ring showcases the exquisite craftsmanship of artisans from Thailand. Order the ring in white, yellow or pink gold - 925 silver is also an option ... more.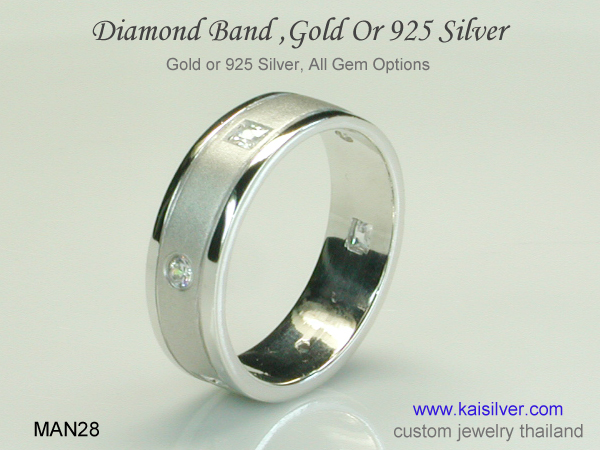 With a total diamond weight that is just a shade below 1 carat (0.87 carat), awesome workmanship provided by dedicated artisans from Thailand and a construction that, makes the ring sturdy and durable - the MAN28 men's diamond band is perfect for both informal and formal wear. Crafted in gold or 925 silver ... more.
Highlights Kaisilver Thailand, Men's Rings:
Crafted by a highly skilled team of artisans and gem experts in Thailand.
Each men's ring is fully handcrafted, no ready made blocks or molds are used.
The gold or silver Thai ring is crafted to the same superior quality standards.
Prices are quoted for 14k / 18k men's rings, price quote for 10k can be provided on request.
You can always choose the gem of your choice even if, it is not mentioned on our websites.
Each gem is custom cut and there is no limitation on gem selections.
Kaisilver rings for men generally weigh around 40% to 50% more than what rings from other jewelers would.
External appearance and long term durability are given equal importance.
You can order a men's ring from Kaisilver Thailand, with your own design concept or image.
Since each ring is fully crafted by hand, requests for all ring sizes can be accommodated.
How To Buy: Each item shown on this web page has a link to a detailed report page. You will find information related to metal and gem options, dimensions, tips and notes and pricing. While is is true that extremely few jewelers try to educate their clients like we don, we will recommend that you discuss your requirements with our support team at sales@kaisilver.com before making a buy decision. You can also send us your own design ideas to be custom made. Every jewel can be crafted in gold or 925 silver with your choice of gemstone.
Who Is Kaisilver: With expertise in handcrafting fine jewelry online that extends over four decades (half of that online), we are honored to be serving over 12,000 discerning clients across 15 nations. By staying closely networked to gem mining and cutting centers on every continent, we have access to around 200 million carats of gems. Besides placing no restriction on your choice of gemstones, we also ensure that you get the best gemstone at every price point. All jewelry can be ordered in gold or 925 silver with gemstones of your choice. Please contact our experts at sales@kaisilver.com if you have any questions.