Rings For Men, Info Reports
Interesting and useful information related to rings for men. There is really much more to men's rings than just external looks and price tags. Men have become more conscious about the jewelry that they are aware, it is not uncommon for them to choose gemstones based on traditional beliefs and customs. Kaisilver gets many 925 silver orders for men's rings, these are men who insist on quality and are generally not satisfied, with mass produced pieces. Gemstone rings for men can be ordered with just about any gem but, gems vary in terms of color, price and durability. We talk about all these and more in this section. You are free to order your men's ring from any jewelry that you choose, but we suggest that you first review these reports before making a buying decision. Our support experts at sales@kaisilver.com are always ready to help you, with any questions or requirements that you might have.
Size 15 14 13 12 11 To Size 8 Rings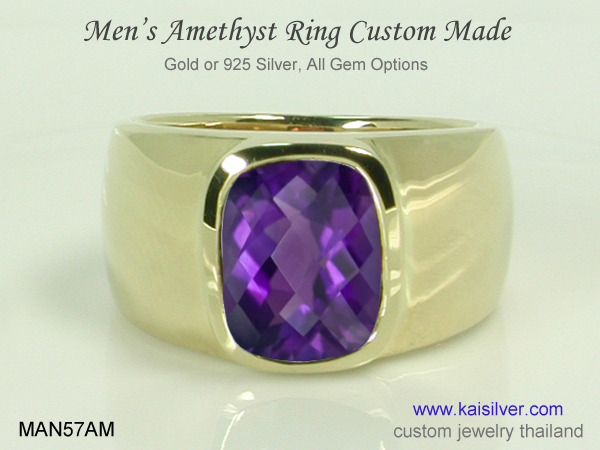 Whether it is a size 15 or size 14 ring or a men's ring in any size from 8 to 16, this collection will inspire you to pick the right design. Kaisilver places no restriction on design or gem, superbly crafted in gold and 925 silver. Choose our design or send us yours ... more.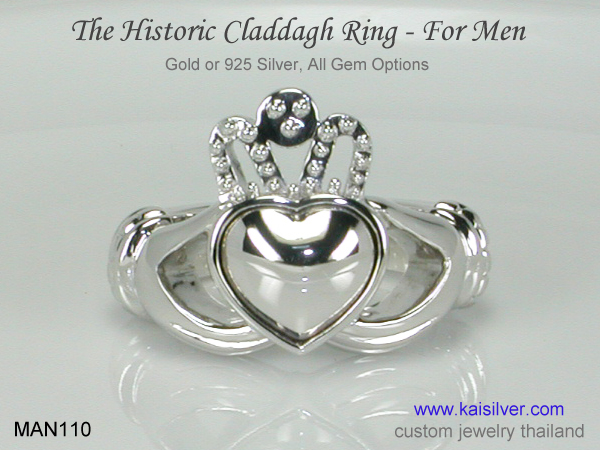 The claddagh ring is one of the most meaningful jewels in history. Kaisilver crafts custom claddagh rings for men in gold or silver, with or without a gemstone in the center. We explain the meaning and significance of the claddagh ring first made 4 centuries ago ... more.
A collection of handsome amethyst rings for men. Order gold or silver men's rings with amethyst or any other gem of your choice. Sturdy rings that will ensure that the ring retains shape and form for a very long time. Can craft men's rings with your design idea ... more.