Moonstone Ring For Men [MAN138]
The gemstone captures the shimmering rays of moonlight, allows you to admire the effect all day and night and everyday. That is what was believed centuries ago regarding the gemstone in this, mystic moonstone men's ring. While the natural optical properties of moonstone are significantly important in generating, the shimmering moonlight effect - human skills are also required to fully bring out the effect. The gem needs to be rightly oriented and shaped during the cutting process.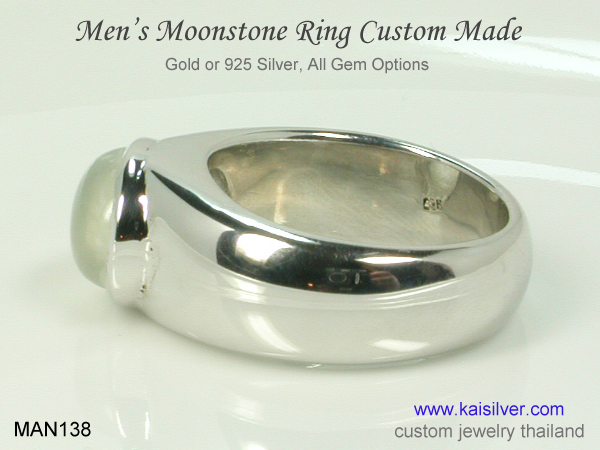 A men's moonstone ring should be a part of every man's jewelry collection. The gemstone has a soothing effect and the MAN138 men's ring ensures, that you wear a ring that is classy, comfortable and very unique. While there is no shortage of mass produced moonstone rings, none of those would match the quality of design and workmanship that we at Kaisilver provide. Jewelry manufactures have come to believe that, silver jewelry need not confirm to high quality standards. Your Kaisilver men's gold or 925 silver moonstone ring, would crafted to the same superior quality standards.
MAN138 Men's Moonstone Ring Highlights:
The silver and gold men's moonstone ring is fully custom made by skilled artisans.
The gemstone is a natural immaculately custom cut 11x9mm oval cabochon moonstone.
The same ring can be crafted with the gemstone of your choice.
We will be glad to craft a men's moonstone ring with design specifications provided by you.
The ring is custom made in all sizes, we can accommodate requests for design change.
The men's moonstone gold ring can be ordered in 10k, 14 or 18k white, yellow or rose gold.
Price quote for the 10k men's moonstone ring can be provided on request.
The MAN138 gold ring with moonstone has a minimum weight of 25 grams.
The men's sterling silver moonstone ring weighs a minimum of 20 grams.
Larger ring sizes could require additional metal weight, we will keep you informed about that.
Specific requests for an unscooped band can also call for additional metal weight.
The portion of the ring behind the finger has a width of 6-7mm..
We can laser etch a name, number, date or short message inside the band at no additional charge.
GEMSTONE OPTIONS AND PRICING FOR THE MAN138 MEN'S RING
Moonstone: Here are some interesting notes about the gem in the Kaisilver men's moonstone ring. Jewelry lovers have today become more aware of the gems that they wear. Gemstones that have an interesting history or tradition attached to them are given high preference. The shimmering effect in moonstone is brought about by the combination of feldspars that are present in the stone. The density and refractive qualities of different feldspars can exhibit wide variations.
An ancient Roman myth described moonstone as being created by moonlight. We also mentioned another belief in the beginning, where the gemstone was believed to have captured moonlight. Moonstone is one of the gems that is believed, to keep a traveler safe during his or her journey. You might be interested to know that, red garnet is another gem that is referred to as a 'travelers stone'. Many gem lovers still believe that moonstone inspires creativity and awareness. In Asian countries, wearing a piece of moonstone jewelry is believed to bring good fortune and eliminate fear.
Men born in the month of June can consider the moonstone to be their birthstone. The birthstone charts generally list pearl as the June birthstone. However the fact that pearl is not very suitable for men and that, pearls cannot be cut and polished into various shapes, limits their use in men's jewelry. This has made moonstone popular as one of the birthstones for the month of June.
Ring Durability: This report would be incomplete without talking about the long term durability of the MAN138 men's moonstone ring. The design configuration of this men's ring has features builtin to improve the durability of the jewel. Notice that the moonstone in the ring, does not protrude too much beyond the surface of the ring. This protects the gemstone from frontal physical impact. Notice how the entire rim (border) of the gem is covered with metal, this provides a secure gemstone mount and also protects the gem from side impact. The metal weight of the men's moonstone ring is around, 40% to 60% more as compared to what other jewelers would provide for a similar design. This is another factor that makes the ring tough and durable. Each ring is crafted by highly skilled jewelry artisans in Thailand, this ensures a perfect gem setting and a ring that is comfortable to wear void of sharp and pointed edges and corners. We also mentioned that the metal weight for the ring might be increased for larger ring sizes. This to optimize the metal weight across all ring sizes.
How To Buy: When deciding to buy a moonstone men's ring or any other jewel from Kaisilver, do not be in a hurry to confirm the order and make a payment. We strongly believe that 'Express Buy', ' Buy Now' and 'Express Checkout' , are not the right way to buy or sell high end custom made jewelry. Begin by sending your requirements and queries to our expert team at sales@kaisilver.com Make sure that you get all answers and clear all doubts, before considering a purchase. The team will provide you details with options and suggestions, you will never be under an obligation to make a purchase. This is precisely why we invite you to take advantage of our expertise even if, you intend to buy nothing from.us.
We can custom make a men's ring with a design provided by you in gold or silver, with the gemstone of your choice. You can also choose a design from our website and request for it to be crafted in sterling silver or gold, with your choice of gemstone.
Payments are accepted through Paypal and Western Union and we recommend Paypal for first time buyers. Let us know which mode of payment you prefer and we, will provide details for the same. There is a production lead time of 4 to 6 weeks from, the date of order confirmation and receipt of payment.
Who Is Kaisilver: Widely acclaimed as the most preferred online source for high end jewelry, we at Kaisilver have been crafting quality jewelry for over two decades. More than 7,000 quality conscious jewelry lovers, spread across 15 nations proudly wear jewels crafted by our expert Thai jewelry artisans and gem cutters. Networked to almost every gem mining center and gem cutting facility across the world, we place no restriction on your choice of gemstone. You need not be limited by what you see on our website. Our support experts at sales@kaisilver.com will be glad to help you with any queries that you might have.