Men's Gemstone Ring, Iolite
Men's gemstone rings have been around for a while. It was only a decade ago when Kaisilver introduced, the first collection of men's high end rings that - men really got involved in the gemstones that they choose. It is interesting that Kaisilver still remains the most preferred source for quality, men's rings in gold or sterling silver. The fact that we are directly networked to almost every, gem mining and cutting center across the globe, explains everything. We talk about the MAN68n men's iolite gemstone ring in this report, you can of course order the same ring with the gemstone of your choice.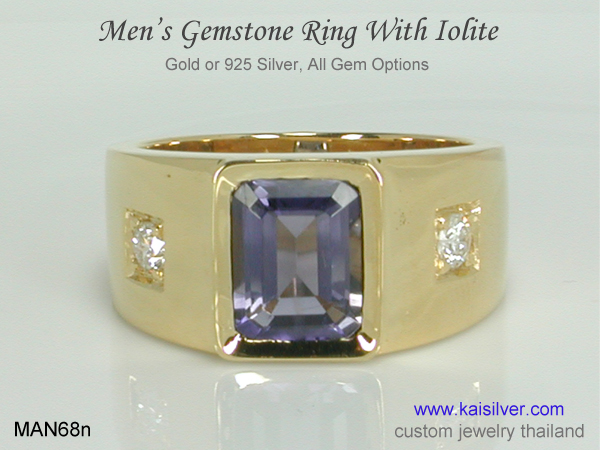 Before we get into details about the Kaisilver MAN68n ring, let us shed some light on the iolite gemstone. Many jewelry buyers would be unaware of this gorgeous blue-violet gemstone. Really no surprise because a significant number of gem and jewelry dealers, would have never seen one either. Iolite is a natural gemstone, gem quality specimens of the mineral Codierite. The gemstone can be transparent or translucent, higher transparency is generally preferred.
Interestingly a slight violet tinge to an iolite gem, can make it appear similar to tanzanite. You would would be aware that, tanzanite is many times more expensive than iolite. You might be surprised to know that, iolite is significantly more sturdier than tanzanite. The explanation as to why, tanzanite is more expensive than iolite is quite long. To put it very briefly, Tanzanite was promoted with a gigantic wave of marketing and sales hype - iolite was not that fortunate.
Main Features Of The MAN68n Men's Ring:
The MAN68 iolite ring can be crafted with the gemstone of your choice. Gem selection need not be limited to what you see on our websites. You can request for the gem size or shape to be customized to suit your preference.
Highly skilled artisans craft each ring in gold or sterling silver, both metals are crafted to the same superior quality standards. For the men's iolite gold ring, you can choose 14k or 18k white, yellow or rose gold. Request for a price quote if you wish to order a 10k men's ring.
The ring flaunts a high quality 9x7mm octagonal natural (certified) iolite gemstone. The ring has a head height of around 12mm (1.2cm) and tapers to around, 6mm (0.6cm) behind the finger.
The band of the MAN68 men's ring is set with 2 diamonds (2.5mm rounds), one on either side of the center iolite gemstone.
The impressive dimensions of this iolite ring for men, are supported by a wholesome metal weight of 20 to 25 grams. Larger ring sizes could require an additional metal weight. The same is the case with specific requirements for rings, that are solid with no scooping inside the band.
Since each men's gold or silver ring is fully custom made, we can accommodate requests for all ring sizes.
We can also custom make a men's gemstone ring with a design (image or sketch) provided by you.
The iolite gemstone used in this ring will be a medium color gem, this is the color shade that best reveals the immaculate cut and polish on the gem. We can also provide a deep colored iolite gem, such a gem would not show much of the internal facets and sparkle. The choice is yours, you can let us know about this at the time of ordering.
PRICING FOR THE MAN68n MEN'S RING
Wedding Ring: We are often asked whether the design of this men's iolite ring is suited, for a men's wedding ring. The answer to this question is a definite 'YES'. We live in a time when conventions related to wedding ring styles and gems, have been put aside. The ring has an elegant and stylish look without being loud, the construction is sturdy and durable and the craftsmanship is well suited for a formal wear jewel.
Durability: This report would not be complete without detailing some important features related to the durability of the ring. The metal weight of 20 to 25 grams is around, 30-40% more than what other jewelers would provide for a similar men's ring. As mentioned above, large ring sizes could call for an additional metal weight allocation. The optimized metal weight ensures that, the ring will not dent or deform even with prolonged wear.
Still on the issue of durability, notice the gemstone in the MAN68n ring. The gemstone does not protrude much beyond the surface of the ring. This is an ideal gem mount where, the gemstone is protected from being hit by physical impact. The diamond mounted on either side of the center iolite gem, is also set in the same way. You might not even notice such details as you review a Kaisilver ring but, these happen to be the essential features that, keep your ring in good shape for years and decades to come.
How To Buy: Before you move ahead with your purchase and process payment, discuss all your requirements with our experts at sales@kaisilver.com . Each Kaisilver jewel is a unique piece crafted by highly skilled artisans and craftsmen, we do not recommend impulse purchases. Your ring will be fully custom made and can include all your preferences, you decide the metal (gold or silver), the gemstone and the ring size and dimensions.
There is a production lead time of 4 to 5 weeks from the date of order confirmation and receipt of payment. If you need your iolite ring for a specific purpose or by a specific date, please plan your purchase accordingly. Payments are accepted through Paypal and Western Union but, we recommend Paypal for first time buyers. Let us know which mode of payment works for you and we will provide details for the same.
You are also welcome to send us your own design ideas and images to be custom made. We craft all types of jewelry and place no restriction on design or gemstones.
Who Is Kaisilver: As the first and leading online high end custom made jewelry provider, we at Kaisilver are honored to have more than 7,000 discerning clients wear our jewelry across 15 nations. We bring together a team of highly skilled jewelry craftsmen, gem cutters, gemstone experts and talented designers from Thailand. The same team works on both gold and silver jewelry orders, this proves our steadfast commitment to quality.
Kaisilver is directly networked to gem mining and cutting operations across the globe, this gives us preferential access to more than 200 million carats of gemstones. We can procure and custom cut any gem for you - you choose the size, shape and cut. Get in touch with our experts at sales@kaisilver.com with any queries or requirements that you might have. We will be glad to serve you even if, you plan to buy nothing from us.