An awesome man sapphire ring with a square blue sapphire gemstone. It is interesting to note that, most of us refer to 'blue' sapphires when we talk about the legendary gemstone. Nature has bestowed us with a dazzling array of sapphire colors - blue, green, yellow, orange, pink and purple are some of these. Having said that, men's sapphire gemstone rings are generally ordered with blue sapphires. At Kaisilver you could order your men's ring with a sapphire in any of the colors that exist on the planet. We will gladly procure and custom cut the gemstone for your ring.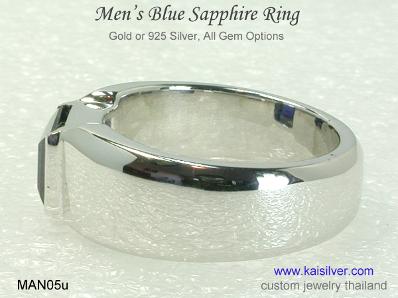 Square sapphires are not very common, the high priced gem is generally cut in shapes that include oval, round or pear. The point is that cutting a square gem involves a fair amount of stone wastage. The MAN05u might appear to have a very simplistic and ordinary design but, this is exactly what high profile stylists recommend for the modern man.
Kaisilver MAN05u Men's Ring Highlights:
The ring can be ordered in 10k, 14k, 18k Gold Or 925 Sterling Silver.
Prices for the 10k men's sapphire ring will be quoted on request.
Men's gold and silver gemstone rings, have the same superior quality standards.
Each ring is fully custom made, all ring size requests can be accommodated.
The men's ring can be ordered with the gemstone of your choice.
Sapphire colors available are white, yellow, blue, green, orange, yellow and pink.
All gemstone used are certified, natural and NOT synthetics or fakes.
The minimum metal weight provided for the sapphire ring is 20 grams.
Larger ring sizes and the requirement for un-scooped bands, can increase metal weight.
The ring is available with a tapered or uniform band width, weights could vary.
You could choose a 7mm or 8mm square gemstone, prices for both options vary.
Request for a laser etching done inside the band, at no additional cost.
We can custom make your men's sapphire ring, with a design provided by you.
Designing and crafting a men's square gemstone ring is not as easy as it seems. Observe the above Kaisilver sapphire ring and you will notice that, the edges and pointed corners of the precious stone have been tucked away inside the metal. This ensures that the men's blue sapphire ring, has a gem that is protected from physical impact. Place your sapphire gemstone ring on a hard surface like a table and you will notice that, the bottom edge of the stone does not make contact with the table surface. These are extremely fine details that might go unnoticed but, they make a tremendous impact on the long term durability of the ring.
A quick note about the sapphire size selection would be useful. If you have read the highlights for the MAN05u mentioned above you would notice that, there is a choice for gem size - 7mm or 8mm. Gemstones are cut in standard size calibrations, dimensions for various sizes have corresponding depth specifications. Gems are priced per carat, sapphires, rubies, emeralds and a few other gems carry a high per carat price. The weight of the square sapphire gem shows a substantial increase when, the size moves from 7mm to 8mm. This implies that the cost of an 8mm square sapphire which is just 1mm larger than the 7mm stone, would show a significant jump. While it is true that an 8mm sapphire gets us a better profit margin, the fact remains that the 7mm stone size provides better value to the buyer. You can make a decision based on the budget that you have allocated for your men's sapphire ring.
7mm GEMSTONE, PRICING AND OTHER OPTIONS
8mm GEMSTONE, PRICING AND OTHER OPTIONS
About Sapphires: Given the fact that men love gems with darker color shades, blue sapphire is one of the top choices. Sapphire has been known to humans for a few centuries. It was thought for a very long time that, all sapphires are blue. In fact there was a common misconception that, all blue stones were sapphires. Persian folklore claimed that, the earth was placed on a gigantic sapphire and the reflection of the stone gave us the sky. Jewelry lovers today, love to choose gems based on their history and other physical properties. The high price of medium to good grade blue sapphires, has given an exclusive and elite aura to the gemstone. Top grade blue sapphires can cost as much as diamonds, the gemstone has never really lost value or popularity throughout history. There was a time in history when, the gemstone was reserved exclusively for royals and aristocrats, commoners could not wear a sapphire even if, they could afford it.
Since blue sapphires are expensive, it is not uncommon for buyers to reserve the purchase for a special occasion. Here are some awesome events that get even better, when celebrated to a men's sapphire ring. Style experts feel that a sapphire wedding or engagement ring, packs an added significance to the occasion. Blue sapphire symbolizes loyalty and sincerity, something that is at the root of every successful relationship. And when you gift a sapphire ring to someone, you reveal that they are truly special and mean a lot to you. Men born in the month of September would wear a man sapphire ring to celebrate their September birthday - sapphire is the birthstone for the month of September. And if you have already tied the knot and ready to mark, your 5th or 45th wedding anniversary a blue sapphire ring is is what you should look for.
How To Buy: As the leading online custom jewelry provider, Kaisilver custom makes all types of jewelry in gold and sterling silver. We maintain the same superior quality standards for both gold and silver jewelry. If you wish to invest in a quality custom jewel, do not be in a hurry to make a purchase. Discuss your requirements with our experts at sales@kaisilver.com provide details regarding your choice of metal, gemstone and design. Each men's sapphire ring is fully custom made, all design modifications and ring size requirements can be accommodated. We can even make a men's ring with a design sketch or image provided by you. Our support team will provide complete details and explain possible options for your review.
There is a production period of 4 to 5 weeks from the date of order confirmation and receipt of payment. We accept payments through Paypal and Western Union, it is recommended that first time users choose Paypal to make payments. You can let us know the mode of payment that works for you and we, will provide details for the same. Shipping is through FEDEX priority service, we will in most cases bear the shipping costs for your order.
Who Is Kaisilver: One of the first and currently the leading online source for high end custom made jewelry, Kaisilver custom makes both gold and silver jewelry. We maintain the same quality standards for both metal options and place no restriction, on design or gemstone for your jewelry. A highly skilled team of jewelry artisans and gem cutters in Thailand, work on all Kaisilver custom jewelry orders. Being directly connected to the world's largest gem mining and cutting centers in more than 12 nations, we have preferential access to over 200 million carats of gems to choose from. It is rightly said that, Kaisilver gem buyers are given first preference when it comes to unique gems in terms of size, beauty or rarity. Besides picking any design from our online resources and requesting, for it to be crafted in gold or silver with your choice of gemstone(s), you can also send us your own design sketches and ideas to be custom made.